FUTURE FACES SHOW
Our Future Faces Show is designed to present the "future faces" of the Texas/Red Dirt Music genre in an acoustic song swap intimate setting so the audience can get to know these artist and their talents better. The Class of 2021, has been selected for the 11th annual event to be held at the PBR Cowboy Bar in Texas Live as it was year before last.
Here is the Class of 2021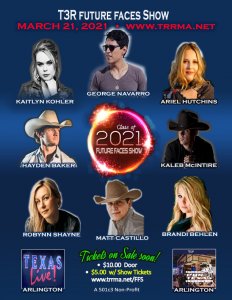 Class of 2021 are: KAITLYN KOHLER, GEORGE NAVARRO, ARIEL HUTHINS, HAYDEN BAKER, KALEB McINTIRE, ROBYNN SHAYNE, MATT CASTILLO and BRANDI BEHLEN
Again this year, the show is held at the awesome Texas Live!  venue in Arlington, Texas... as Texas Live!  New dates are: Sunday MARCH 21, 2021 at 7:00 pm and will still kickoff the event.
Future Faces Show -
MARCH 21, 2021

 - 7:00pm
Ticket prices are $10.00 per person - $5.00 discount with the purchase of awards show ticket.
click here to get your tickets
Future Faces Ticket Link
https://www.eventbrite.com/e/t3r-future-faces-show-tickets-139338730895