"T3R - The Only Recognized & Official Texas/Red Dirt Music Chart and Awards"
---
"ALL VOTING ROUNDS are now complete. 

Thank You for your voice and vote.
Winners will be announced at the 11th Annual Awards show on MONDAY, March 22, 2021 in Arlington, Texas at the fabulous 1010 Collins Event Center
---
The 11th Annual TRRMA Music Awards show takes on a new look , a new atmosphere, a new venue.  "1010Collins" event center in Arlington, Texas will feature and host our event this year as we thought it was time for a change of pace and sensation.
We will host a Banquet Style arrangement, a Red Carpet, two stages and a special guest appearance or two.  We will award  special "Artist of the Decade" awards honoring entertainers with the most number of wins in our 10 year history.
Due to the 2020 pandemic situation, we decided to air a Virtual T3R Awards Show to announce and celebrate all your winning nominees. If you missed the Virtual airing, it remains on the Texas Regional Radio Facebook page... share the link with ALL your friends, family and fans!
Viewing Link:
--------------------------------------------------------------------------
The 2021 11the Annual T3R Music and Radio Awards event IS UPON US!
SUNDAY Morning - March 21, 2021 hosts the

"Sunday Morning Gathering"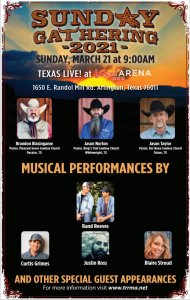 SUNDAY evening March 21, 2021 the 

"Future Faces Show"

Class of 2021
with a special performance by Creed Fisher to close the evening
MONDAY - March 22, 2021  The
"Texas Regional Radio & Music Award show"

is scheduled.  See who wins in the category of you favorite entertainer and radio station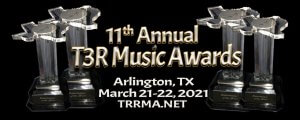 In attendance will be: Randy Rogers, Kevin Fowler, Mark Powell, Brodie Lane, Chad Cooke Band, Sundance Head, Bri Bagwell, Paul Eason, David Adam Byrnes, Kylie Frey, The Stateline Band, Cross Rags and Young, Jenni Dale Lord, William Clark Green, Jon Wolfe, Creed Fisher, the fantabulos T3R House band among many others. This years event hosts will be Justin Frazell - 959 The Ranch Ft Worth, Eric Raines - KOKE Radio Austin, and Kendall Beard, artist, entertainer, songwriter and Idol contestant
The upcoming 11th annual event is going to be so much more fun and exciting!
Join us as we celebrate the achievements of radio and out entertainers!
See you there!