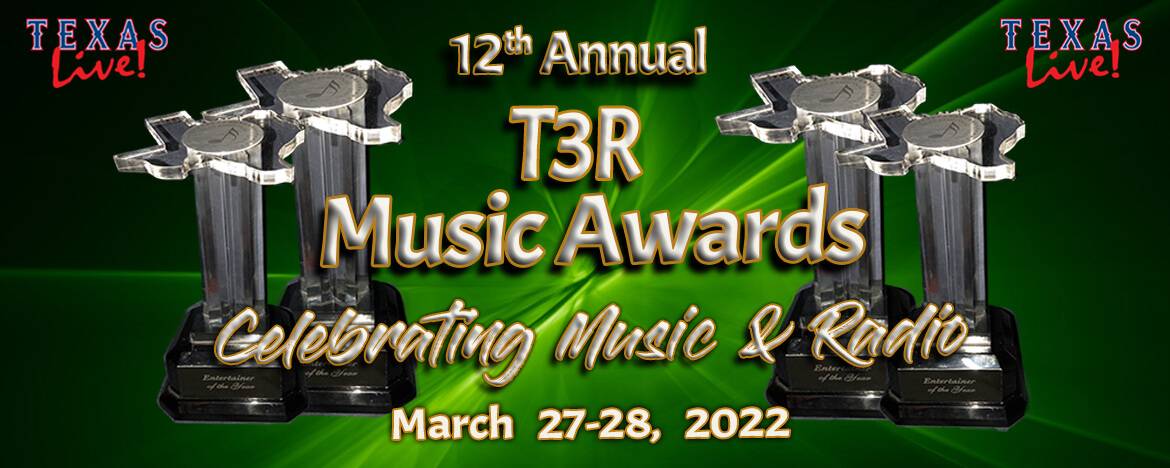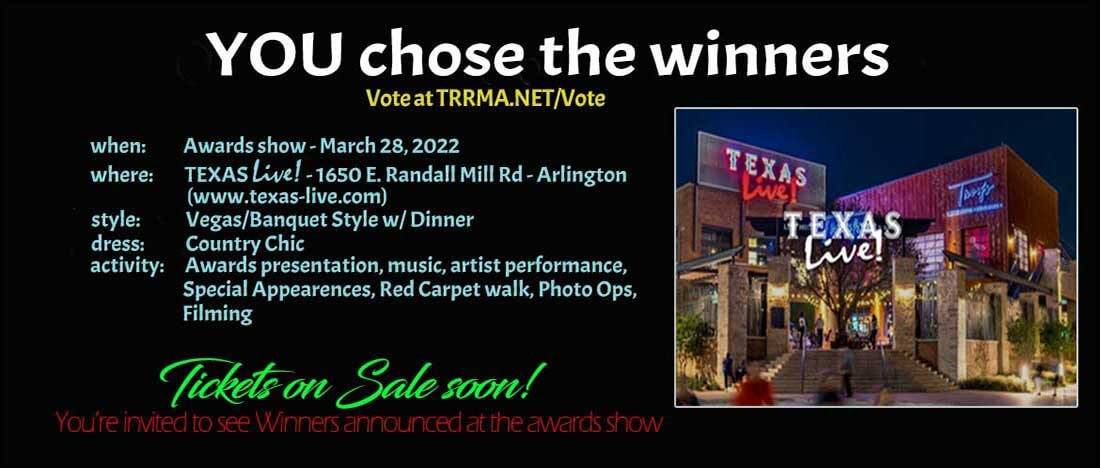 "T3R – The Only Recognized & Official Texas/Red Dirt Music Chart and Awards"
---
————————————————————————————————————————————————————-
2022 T3R Radio & Music Awards WINNERS
• Entertainer of the Year
       Aaron Watson
• Male Vocalist of the Year
       Josh Ward
• Female Vocalist of the Year
        Bri Bagwell
• Duo/Group/Band of the Year
        Randy Rogers & Wade Bowen
• New Male Vocalist of the Year
         George Navarro
• New Female Vocalist of the Year  (tie)
         Ariel Hutchins
         Taylor Dunn
• New Duo/Group/Band of the Year
         Kin Faux Band
• Single of the Year
        "Heroes" – Artist: Bri Bagwell / Producer: David Grissom
• Album of the Year
        "American Soul" – Artist: Aaron Watson / Producer: Phil O'Donnell
• Brandon Jenkins Memorial Songwriters Award
        "A Cowboy Can" – Artist: Josh Ward/ Writers: Josh Ward & Wyatt McCubbin
• Music Video of the Year
       "Horses In Heaven" – Artist: Kylie Frey/Prod-Dir: Tyler Conrad
• Record Producer of the Year
       Stormy Cooper
• Recording Studio of the Year
       Stormy Cooper Media – Houston
• Venue/Night Club of the Year
       Texas Live! – Arlington
• Festival of the Year
        KOKE FEST – Austin
• Radio Station of the Year – Super Market
         KOKE 98.5/99.3 FM – Austin
• Radio Station of the Year – Large Market
          KRMX 929ShooterFM – Waco
• Radio Station of the Year – Medium Market
          KAXA 103.7 – Kerrville
• Radio Station of the Year – Small Market
         KYKM 94.3/KTXM 99.9 – Shiner
• Radio Station of the Year –  Out of Region
         KQSC-F 107.3/97.7 – Colorado Springs, CO
• Radio Station of the Year – Internet
         RedDirtTexasCountry.com
• Radio Station of the Year – Syndicated
         The Official Texas Countdown – Chuck Taylor
• Radio Station of the Year – Specialty Show
         35 South – Colby Ericson
• On Air Personality of the Year – Super Market
         Rita and Raines – KOKE – Austin
• On Air Personality of the Year – Large Market
          Crowman & Nash – KRMX – Waco
• On Air Personality of the Year- Medium Market
           Justin McClure – KAXA – Kerrville
• On Air Personality of the Year – Small Market
          Billy Mack – KSTV – Stephenville
• On Air Personality – Out of Region of the Year
          Carly Evans – KQSC – Colorado Springs, CO
• On Air Personality of the Year – Internet
         Jody Lee Caudle – TexasHomegrownRadio – Stephenville
• Texas Music's Best Supportive Medium
        "Yellowstone" / Taylor Sheridan
---
The 12th Annual TRRMA (T3R) Music Awards show selects a new venue for our 12th Annual event… the fabulous TEXAS Live! venue at 1650  E. Randol Mill Road in Arlington, Texas will feature and host our event this year.
Because of the wonderful success and repeat requests and compliments we will again host a Banquet Style arrangement to include a Red Carpet and a special guest appearance.
————————————————————————–
SUNDAY evening March 27, 2022 the 

"Future Faces Show"

Class of 2022
MONDAY – March 28, 2022  – The
"Texas Regional Radio & Music Award show"

is scheduled for showtime in the main arena of Texas Live!.  The T3R After Party to follow the awards will be announced soon
Join us as we celebrate the achievements of radio and out entertainers!
See you there!