SUNDAY - March  22, 2020
PBR Cowboy Bar (inside Texas Live!)
FUTURE FACES Show ......................  
Starts  7:00 pm  •  PBR Cowboy Bar •  8 new acts perform in a song swap/jam session  •
this years Future Faces Show performers will be ...TBA...  The Best of the Best will be voted on by the FFS in house audience and the live streaming event audience.  The FFS Winner will perform one acoustic number during the Awards show on Monday evening.
MONDAY - March 23, 2020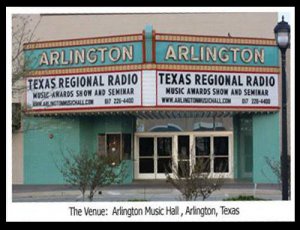 TRRMA AWARDS SHOW..................
ARLINGTON MUSIC HALL - 224 N. Center. Arlington / 76011/ 817-226-4400
Red Carpet Walk 5:00-6:15 pm -  General Admission seating - Doors Open 6:20 pm - SHOW STARTS AT: 7:00 PM -- Dress is semi formal - Texas Chic
 TICKETS....  TBA
Future Faces Show -  ... TBA
TRRMA Music Awards info below
VIP Seating (includes Red Carpet walk):  Advance:    At the Door:
Floor General Seating:
Balcony Seating:
Click link below to purchase advance tickets...